UConn Today spoke with Dr. Mario Perez, UConn Health pulmonologist, assistant professor of medicine in pulmonary medicine, critical care and sleep medicine at the UConn School of Medicine, to find out what his legacy Hispanic really means to him, how it has influenced his healthcare career, and those he deals with from diverse backgrounds at UConn Health.
What does your Hispanic heritage mean to you?
Hispanic heritage means feeling proud and honored to belong to a community that is willing to serve others, some through military service, church, or just plain hard work. It also means pride in being able to communicate in another language and maintaining the traditions associated with family and community while helping this country grow and prosper.
Who pushed you to go to medical school and become a doctor?
I've always loved science and trying to help people. I also had the privilege of having an uncle who worked as a pediatrician in the rural town where I was born and raised. He allowed me in his office to observe his work several times. Later in life my brother decided to go to medical school and I was always very curious to explore his textbooks. At first I was fascinated by the images of pathology presented in his dermatology books, and later hearing his enthusiasm for human physiology sparked my interest in medicine and a desire to learn more.
How does your connection to the Hispanic community influence your patient care?
Due to my heritage, I am available to serve some members of our community in their own language and perhaps with a better understanding of their needs. At the same time, I go the extra mile to be a good role model for others in the community.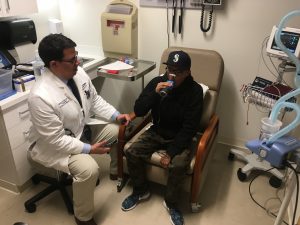 As a provider, what is your primary focus when caring for those in the Hispanic community?
My goal has always been to provide the best care possible, regardless of who I serve. Since the prevalence of asthma among the Hispanic population in the state of Connecticut is higher, especially among Puerto Ricans, I had focused my services on this condition which affects the respiratory system and especially the airways. Therefore, I have tried to educate my patients about the dangers of certain environmental exposures, tobacco, recreational substances, and alcohol. I also encourage them to seek all preventive care, and especially vaccinations to prevent or decrease morbidity from illnesses such as COVID-19 and influenza.
Do you have something to share with the Hispanic community or those who work in healthcare?
I would like to take this opportunity to thank the Hispanic community for trusting us with their care, and UConn Health for fostering an inclusive environment.